The Basics of Final Fill Custom Assemblies and Why Choose Saint-Gobain Products from Fluid Biosolutions
03 December 2021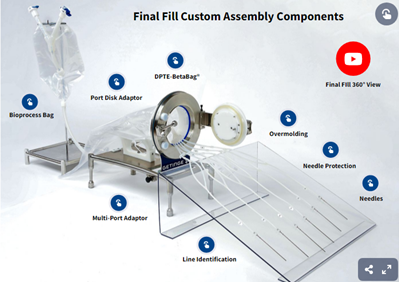 Our open-architecture approach allows our customers to customize assemblies using our vast library of components. Vertically integrated components such as Pure-Fit® SIB connectors, BarbLock® ultra-secure retainers, and single-use bioprocess bags, coupled with our industry-proven silicone tubing, SPT-60L, can help to achieve your filling process requirements.
Testing to regulatory standards ensures the cleanliness, biocompatibility, and sterility of assemblies as evidenced through the quality documentation provided with your products. Our seamless flow path overmoulding technology and range of tubing products support critical fluid path requirements for accuracy of volume delivery, reduced pulsation during filling, and minimized hold-up. Leverage our relationships with filling needle and DPTE transfer bag manufacturers, which among those include the Getinge DPTE-BetaBag® product, for a complete filling assembly solution.
Final Fill Custom Assembly Components
Line Identification
Line set identification via number tags or colour coding is available on assemblies to simplify operator installation and setup of the filling line.
Multi-Port Adaptor
The multi-port adaptor simplifies the final fill assembly design by consolidating flow management into a single manifold versus multiple leg designs. This reduces the 'spaghetti' of single-use designs allowing for easier deployment of tubing sets.
Bioprocess Bag
Single-use bio process bags are constructed of a multilayer film optimized for bioprocessing applications, including an LDPE product contact layer, an EVOH gas barrier, and a nylon outline. The film materials are consistent throughout the product range and are free of animal-derived components with supporting BPOG extractable information. Offering outstanding biocompatibility, chemical compatibility, barrier and strength properties, Saint-Gobain bioprocess bags meet the most demanding bioprocess applications.
Our testing successfully identified Saint-Gobain's 5-layer film bioprocess bags as a suitable material for use in final fill applications with VHP exposure.
Port Disk Adaptor
Our patented port disk adaptor provides a novel solution for fluid transfer applications with beta bags. The over-moulded adapter eliminates fluid path dead zones introduced by barbed fittings and allows for smaller ID tubing to be used with the bag port (no step-up / down required). Removing several mechanical connections on the assembly using the port disk adapter reduces potential leak points for tubing adaption to the bag port. The port disk adapter is also available on custom bioprocess bag configurations.
DPTE-BetaBag®
Getinge single-use DPTE-BetaBag®  is designed for fast contamination-free transfer.  The flexible bag docks onto a DPTE® Alpha port for a safe leak-tight connection to a sterile zone.
Overmolding
As a pioneer in overmolding technology, Saint-Gobain utilizes overmolding in pump tubing segments to give hours of continuous, leak-free operation. Our industry-recognized SPT-60L silicone tubing is long life and provides consistent delivery over the filling lifecycle with minimal spallation.
Additional over-moulded connections are available (i.e. reducers, manifolds, tees, etc.) and can be customized to your specific equipment or configuration in Sani-Tech® silicone or C-Flex® TPE resins.
Needle Protection
Unique design for protection of needles during packaging/shipment facilitates extraction of line sets from BetaBag and improves handling and deployment of line sets in the isolator. Needles are protected by the puncture-resistant, polyurethane sleeves or can be secured in a moulded polypropylene case (in groups of two).
Needles
Needles can be sourced from several needle suppliers (stainless steel and polymer) to support specific equipment and process needs.
Article Source:
https://www.biopharm.saint-gobain.com/product-category/final-fill-custom-assemblies
Optimized by: Netwizard SEO